Solar Domestic Water Heating
Solar Domestic Water Heating (SDWH) Submittal Requirements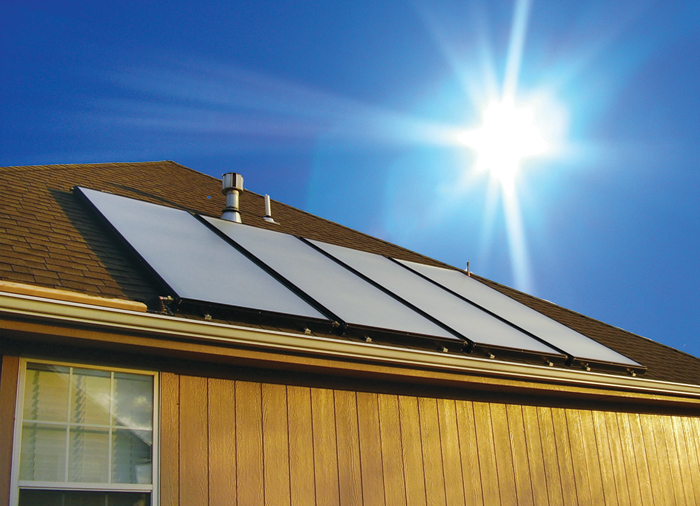 The "Streamlined SDWH" permit process is ONLY for solar domestic water heating systems not exceeding a thermal output rating of 30 kWth on the roof of a one- or two-family dwelling or accessory structure and used for domestic water heating. Systems must be in compliance with current California Building Standards Code, Title 24 and local amendments of the authority having jurisdiction (AHJ). Other articles of the California Plumbing Code (CPC) or California Mechanical Code (CMC) or other California health and safety codes shall apply.
MANUFACTURER'S SPECIFICATION SHEETS MUST BE PROVIDED for proposed collector, controller, pump, storage tank/heat exchanger/ heat transfer fluid (if applicable) and mounting systems. Equipment intended for use with SWH system shall be identified and listed for the application.
Please review the following forms and include with your submittal:
Plan Review
Permit applications can be submitted to Development Services Department in person at 276 Fourth Avenue Bldg B, Chula Vista, California 91910 and electronically through: Citizen Access
Permit applications utilizing standard plan may be approved "over-the-counter" at 276 Fourth Avenue Bldg B, Chula Vista, California 91910. Permits not approved "over-the-counter" should be reviewed in one to three days.
Incentives
Homeowners and businesses interested in reducing their utility costs for heating water can now take advantage of significantly increased cash rebates for solar water heating systems from the California Solar Initiative – Thermal Program.
Starting this month, the California Public Utilities Commission raised incentives for solar water heating systems that displace natural gas use by 60 percent for residential installations and nearly 40 percent for commercial applications. The increased rebates present an opportunity to invigorate the solar water heating industry while offering both residential and commercial consumers ways to save money, cut energy use and reduce their carbon footprint.
Inspections
Once all permits to construct the solar installation have been issued and the system has been installed, it must be inspected before final approval is granted. On-site inspections can be scheduled by contacting the Development Services Department by telephone at (619) 409-5434 or electronically at https://pip.chulavistaca.gov/citizenaccess/chulavista.aspx. Inspection requests received within business hours are typically scheduled for the next business day. If next business day is not available, inspection should happen within a five-day window.
Permit holders must be prepared to show conformance with all technical requirements in the field at the time of inspection. The inspector will verify that the installation is in conformance with applicable code requirements and with the approved plans.
The inspection checklist provides an overview of common points of inspection, and the applicant should be prepared to show compliance with these points.
Contact Information
For additional information regarding this permit process, please consult our departmental website at https://www.chulavistaca.gov/departments/development-services/apply-for-a-permit or contact the Development Services Department by phone at (619) 409-5434.